CrossFit Rocks – CrossFit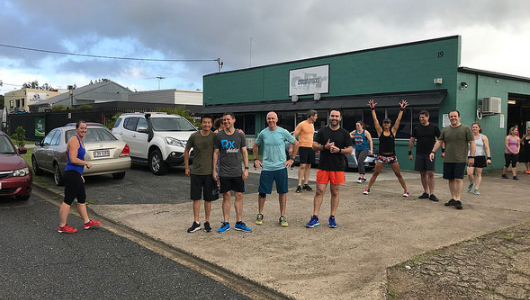 The smiles before Murph began!
Warm-up
Warm-up (No Measure)
3 rounds of:

1 min row

1 min double unders

1 min bike

1 min rest
Then;
Dynamic stretching
Then;
A. GHD sit up volume

2-3 sets of 10-25 reps
B. Gymnastic's WOD
Metcon
Metcon (Time)
3 rounds for time of:

20 handstand push ups

30m walking lunge

50 hip extensions
A cue to consider for hip extensions; spread your butt cheeks apart on the way down. Squeeze your cheeks together on the way up. I hope you all got a great visual with that one. Move about the hip joint, without ANY movement in the lower back.
Advanced Athlete Extra Work
Snatch + 1 OHS (1-1-1-1-1-1-1)
1 full squat snatch + 1 overhead squat (that is one set). Prioritise form – if you fall forward/send the bar out/shoot your hips up or have any other fault, do not add weight. If mechanics are perfect, add weight in small increments.
Gymnastics strength WOD
Metcon (No Measure)
5 rounds:

30 sec shoulder taps

30 sec rest

Choose front support with/without feet elevated on box, or handstand against a wall.