CrossFit Rocks – CrossFit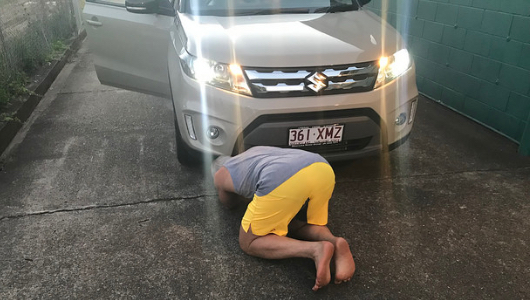 The moment you realise that your new car can't in fact drive over the cones on the driveway lol.
Warm-up
Warm-up (No Measure)
Mobility: 2 min wall squat

Then 2 sets of:

A. With a thin band doubled up around the knees, sit into the bottom of the squat and drive knees out 10 times (small pulses)

B. Stretch lats & triceps by holding a 5kg plate behind your head and squeezing the elbows in for 1 minute
400m run
Then;
3 rounds of:

6 barbell good morning

6 front rack barbell lunge

6 pause front squats
Weightlifting
Front Squat (3-3-3-3-3)
Advanced Athlete Extra Work
Yesterday's WOD
Gymnastics strength WOD
Metcon (No Measure)
20 log rolls with a 3 second hold in hollow and superman each repetition.