CrossFit Rocks – CrossFit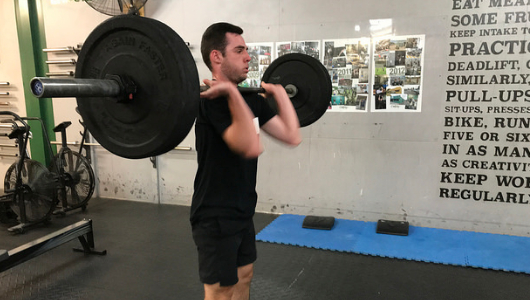 Cameron performing heavy power cleans.
Warm-up
Warm-up (No Measure)
2 minutes foam roll thoracic

1 minute foam roll lats each side
Then,
Catalyst warm up.
Then,
Skill:

Toes-to-bar
Then,
10 minutes to establish a heavy single power clean.
Weightlifting
Power Clean (10 minutes to establish a heavy single)
Metcon
Metcon (AMRAP – Rounds and Reps)
Complete as many rounds as possible in 10 minutes of:

5 power cleans

10 toes-to-bars
Men: 92-kg.

Women: 61-kg.
Grip may be a limiting factor in this workout if you are getting through quite a few rounds. Some things to consider may be: Releasing hookgrip in the front rack of your clean and breaking the toes-to-bar early.
Advanced Athlete Extra Work
Yesterday's WOD.
Gymnastics strength WOD
Metcon (No Measure)
Tabata superman hold on GHD