CrossFit Rocks – CrossFit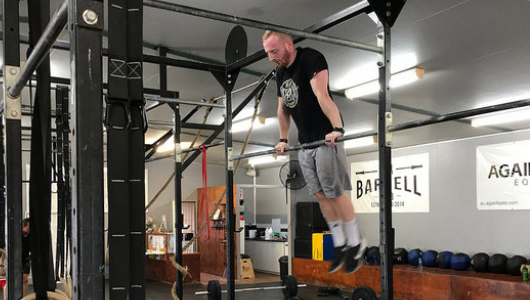 Which gymnastics movements will we see in 18.3?
Warm-up
Warm-up (No Measure)
Relay races

– In teams, each person has to complete 20m of whatever the movement is. It can be completed 10m if needed.

1. Bear crawl

2. Crab walk

3. Wheelbarrow

4. Army crawl (using your elbows)

5. Duckwalk
Then;
2 sets for quality

1 minute hollow hold

1 minute ring support

(scale time or break up as needed)
Then;
HSPU work
1. Pike HSPU

3 x 5-10 reps

– Perfect position or go to a push up. Build strength in a perfect push up first!
OR
2. Kipping HSPU

3 x 10 reps with open standard tape for practice. Partner up and have someone judge your reps so you know if you are getting the standard or not.
Metcon
Metcon (Time)
For time in partners:

90 burpees

90/80 cal assault bike

60 burpees

60/50 cal assault bike

30 burpees

30/20 cal assault bike
Advanced Athlete Extra Work
18.3 prep
Gymnastics strength WOD
Metcon (No Measure)
Accumulate 1 min. each side holding the bottom of a pistol. Scale to free leg off the side of a box. No holding your foot!