CrossFit Rocks – CrossFit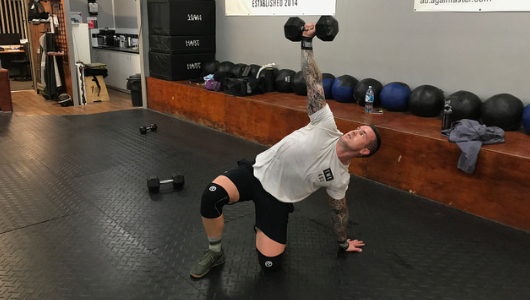 The Turkish get-up doesn't work a single muscle muscle. It works all of them!! You've heard of 'superfoods"? The Turkish get up is a 'superexercise'!!!
Warm-up
Warm-up (No Measure)
10 Thoracic bridges
Crossfit warmup

2 rounds

10 pull ups / ring rows

10 push ups

10 sit ups

10 squats

10 hip extensions
Turkish get up progressions
Metcon
Metcon (2 Rounds for reps)
3 rounds of:

2 minutes of rope climbs

2 minutes of Turkish get-ups

Rest 2 minutes

Men: 15-ft. rope, 22.5kg dumbbell

Women: 15-ft. rope, 15kg. dumbbell
Jump back on the rope as soon as possible. The rope climb is a movement that can slow down fast. Jump straight back on the rope. 2 minutes will go by fast.