CrossFit Rocks – CrossFit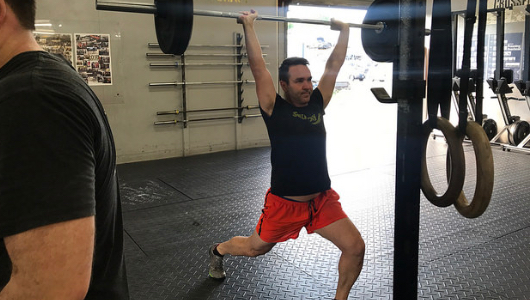 Ben demonstrating some good overhead position!
Warm-up
Warm-up (No Measure)
20 cal row
Then;
3 rounds of Cindy

5 pull ups/ring rows

10 push ups

15 squats
Then;
2 sets of:

10 banded press w/ pause at the top

12 scap push ups
Then;
Turkish Get Up review
10 minutes to build to the heaviest possible TGU on each side
Metcon
Metcon (AMRAP – Rounds and Reps)
20 minute AMRAP:

20 cal row

15 dips

10 Turkish get-ups 20/15kg dumbbell
Not specified as ring dips. Can push together GHD's and use handles for static dips if desired.
Dips and get ups will make for a challenging workout. Do not sacrifice your overhead position under fatigue. If your elbow bends or your shoulder rolls forward, we bleed energy trying to support the load compared to when we stack the weight on an active shoulder with a straight elbow. Smash your traps and thoracic spine (upper back) as prep for today.
Advanced Athlete Extra Work
Yesterday's WOD
Gymnastics strength WOD
Metcon (No Measure)
5 rounds:

5 kip swings straight into

5 toes to bar (or kipping knees to elbow)

https://youtu.be/rp90cHN1Aj8