CrossFit Rocks – CrossFit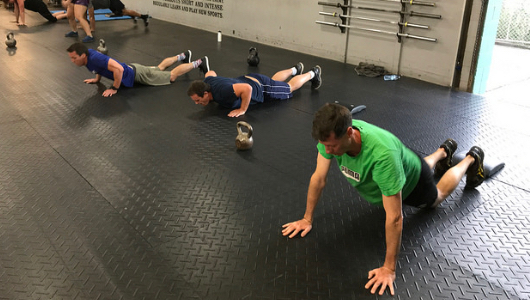 Burpees for days!
Warm-up
Warm-up (No Measure)
3 rounds

20m overhead walking lunge w/ plate

15 band pull aparts

30-60 second plank
Then;
Barbell complex (start with an empty bar and add weight if mechanics are perfect)

3 hang shrugs

3 hang high pulls

3 muscle snatch

3 behind the neck push jerk with a 3 sec pause in catch position (with snatch grip)
Weightlifting
Hang Power Snatch (3-3-3-3-3)
Delay the arms! Jump the bar! This is a hip driven movement and there is not better lift to reinforce the correct timing for the snatch. Initiate every lift with the hips!
Advanced Athlete Extra Work
Yesterday's WOD
Gymnastics strength WOD
Metcon (No Measure)
5 min EMOM

15 air squats

3-5 HSPU*
*Scale HSPU to Pike push-ups or push-ups.
Each round should be an all out sprint. The work should be finished in ~30-40 seconds.