CrossFit Rocks – CrossFit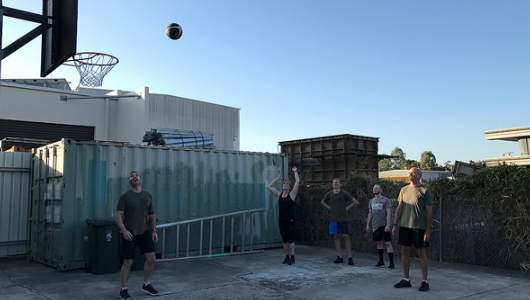 How is your accuracy?
Warm-up
Warm-up (No Measure)
500m row

3 rounds of:

15-20 GHD sit up

15 hanging shoulder activations

15 barbell good mornings

Then;

Warm up movements with partner. Test farmers carry.
Metcon
Kev (AMRAP – Rounds and Reps)
With a partner, complete as many rounds as possible in 26 minutes of:

6 deadlifts, 315 lb., each

9 bar-facing burpees, synchronized

9 bar muscle-ups, each

55-ft. partner barbell carry, 315 lb.
315lb – 143kg/110kg

55ft = 17m
Kev sacrificed everything for his country and today we honour a brave man who was killed in battle at 26. When Kev was shot, his teammates WENT BACK OUT to carry their teammate off the field under heavy open fire. We endure nothing compared to these men; be grateful, don't complain and work as hard as you can today. R.I.P Kev.
Masters WOD
Metcon (AMRAP – Rounds and Reps)
26 minute AMRAP

In partners:

6 deadlifts each 110/80kg

9 synchronised bar facing burpees

9 chest to bar pull ups + 9 push ups each

20m DB farmers carry 35/30kg
Advanced Athlete Extra Work
Metcon (Time)
21-15-9 reps for time of:

Dumbbell squat clean thrusters 25/20kg

Pull-ups
Gymnastics strength WOD
Metcon (No Measure)
5 rounds:

10 ring push-ups, low rings

20 second ring support hold

Scale ring push-ups by walking feet forward to elevate the rings