CrossFit Rocks – CrossFit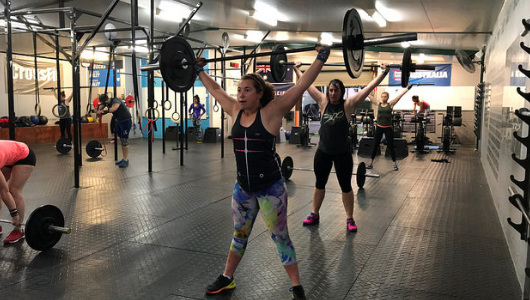 Grace and Isabel are two of Crossfit famous girls benchmark workouts and your not likely to forget either in a hurry!!!
Warm-up
Warm-up (No Measure)
Speed ladder drills
Junkyard dog
Skill:

Handstand push up

1. Hold on wall

Facing wall, toes pointed, hollow position, active shoulders

2. Negatives

Slow lower to 1-2 abmats

Beginners can do pike negatives with feet on a box

3. Headstand kick outs (into top of push up position)

4. For intermediate/advanced, practice kipping on wall (attempting to connect multiple reps – MUST BE a controlled lower, no crashing onto necks)
Burgener clean and jerk warm up.
Metcon
Set your back. When doing high rep olympic lifting make sure you hold your positions. Don't sacrifice your form.
Grace (Time)
For Time:
30 Clean and Jerks, 135# / 95#
Metcon
Isabel (Time)
For Time: 30 Snatches, 135# / 95#