CrossFit Rocks – CrossFit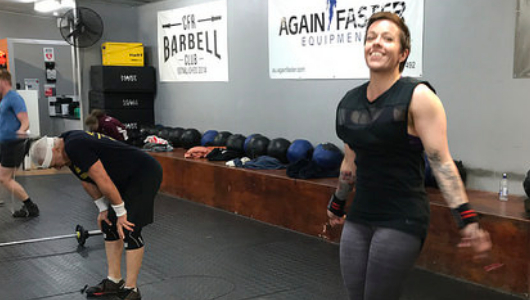 There are 2 types of feelings when performing double unders (shown above).
Warm-up
Warm-up (No Measure)
1 minute foam roll calves each side.

1 minute Lateral Opener (each side)
Then,
Challenge: Plate hops.

4 rounds (first round warm up):

30s on / 30s off

*Verse someone and count your plate hops
Then,
3 rounds of:

6 overhead banded pull aparts

8 thoracic bridges

10m duck walk w/ 10 air squats at the end.
Then,
Set-up for workout.
Metcon
Metcon (AMRAP – Rounds and Reps)
Complete as many rounds as possible in 7 minutes of:

50 double-unders

10 overhead squats
Men: 61-kg.

Women: 43-kg.
Maintain constant upward pressure against the bar in the overhead squat. To stabilise the weight, you need active shoulders to stay in control of the barbell overhead, or it is going to feel like you are balancing yourself around the barbell instead.
Advanced Athlete Extra Work
Back Squat (3-3-3-3-3 reps)
Gymnastics strength WOD
Metcon (No Measure)
Accumulate 2 min false grip hang on rings.