CrossFit Rocks – CrossFit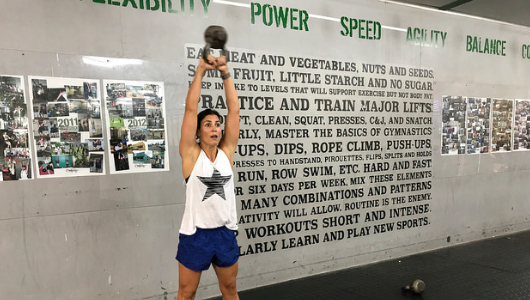 Jenny surprised that it's Monday already.
Warm-up
Warm-up (No Measure)
90 seconds forearm smash each side.
Then,
With a partner:

2-4-6-8-10 air squats each

*100-m run (together) after each round.

1-2-3-4-5 burpees each

*20-m wheelbarrow walk after each round.
Then,
Skill: Kipping pull-up.
Then,
Set-up for workout.
Metcon
Metcon (AMRAP – Rounds and Reps)
Complete as many rounds as possible in 20 minutes of:

5 chest-to-bar pull-ups

10 wall-ball shots

15 kettlebell swings
Men: 9-kg. ball, 24-kg. kettlebell

Women: 6-kg. ball, 16-kg. kettlebell
These 3 movements will compound pretty quickly on the shoulders if you are not careful in how you break your reps up. By breaking up reps intentionally from the beginning (even if you don't feel like it), you're allowing your shoulders to have just enough of a break so that they don't reach fatigue so early on. Play the long game, not the short – 20 minutes is definitely not short.
Advanced Athlete Extra Work
Split Jerk (2-2-2-2-2 reps)
Gymnastics strength WOD
Metcon (No Measure)
Tabata push-ups

*hold front support in rest periods

Scale to knee push-ups as necessary