CrossFit Rocks – CrossFit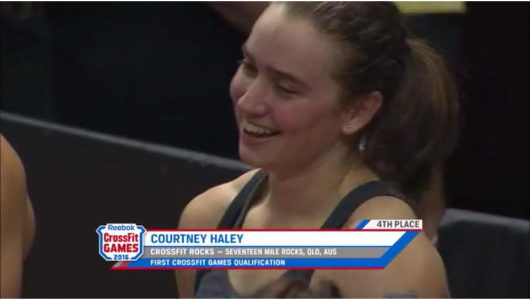 Congratulations Courtney Haley! All of CrossFit Rocks is proud.
Warm-up
Warm-up (No Measure)
Mobility:

1 minute banded ankle distraction each side

1 minute trigger ball foot each side
Then,
Athletes choice:

10 minutes of aerobic

Bike / row / skip / driveway run

*can swap whenever.
Then,
Tabata (8 rounds total):

Handstand (laying down)

Hollow hold
Then,
5-7 minutes of handstand practice

Wall facing

Against wall

Freestanding
Then,
Set-up for workout.
Metcon
Metcon (5 Rounds for reps)
5 rounds for reps of:

2 minutes of burpee box jumps

Rest 1 minute
Men: 36-in. Box

Women: 30-in. box
This workout is simplicity at its best. You have 2 common movements that come up regularly and are a great litmus test for your fitness. So take a chance today; I would like you go guns blazing on that first round and then see if you can maintain it. Push hard but be confident in the height of the box that you choose.
Masters WOD
Metcon (5 Rounds for reps)
5 rounds for reps of:

2 minutes of burpee box jumps

Rest 1 minute
Men: 30-in. Box

Women: 24-in. Box
Advanced Athlete Extra Work
10k Row (Time)
Max Effort 10k Row
Gymnastics strength WOD
Metcon (No Measure)
Accumulate 2 min ring support