CrossFit Rocks – CrossFit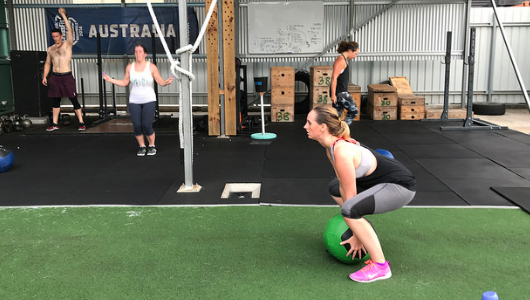 Ashleigh working hard during last weeks med ball clean AMRAP!
Warm-up
Warm-up (No Measure)
Dynamic drills
Then;
3 sets of:

3 ring rows

3 transitions

3 ring dips (scale to a jumping ring dip or ring push up)
Then;
Thruster drills with an empty barbell and warm up for workout
Metcon
Metcon (Time)
For time:

10 muscle-ups

25 thrusters

1,000-meter row

25 thrusters

10 muscle-ups
Men: 35kg

Women: 25kg
*no dumping plates (if you can do 25 thrusters with it, I feel confident that you can control it to the floor)
I want a muscle up!
Step 1: Can you do 3 strict chest to bar pull ups and 3 strict ring dips?
This is the foundation for a muscle up, muscle ups will come so much easier to those with a strong foundation. This will also reduce your chances of injury. An easy mistake to make is to practice a lot of kipping and transitions and end up with shoulder or elbow issues that hold you back, not only from muscle ups, but from training all together.
Advanced Athlete Extra Work
Hang Snatch (2-2-2-2-2-2-2)
Gymnastics strength WOD
Metcon (No Measure)
Tabata hollow hold with band under lower back:

https://www.instagram.com/p/BeY8MmVhnB9/?taken-by=crossfit