CrossFit Rocks – CrossFit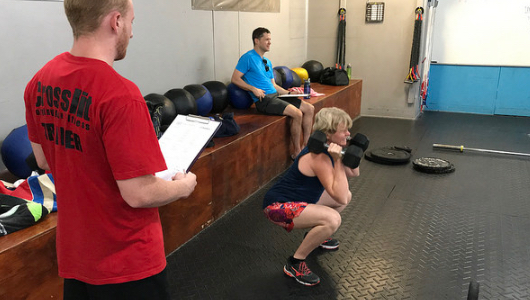 Well done to everyone who did (or is going to do) 18.2!
Warm-up
Warm-up (No Measure)
Stuck in the mud
Then;
3 rounds

10m monster walk

15 hollow rocks

10 kipping/butterfly pull ups
Weightlifting
Front Squat (10-10-10-10-10)
The big three in a front squat:

1. Brace – maintain pressure in your belly throughout the entire squat

2. High elbows – relaxed fingers so the bar can rest on the torso and you can get your elbows up.

3.. Weight in heels – sit back and stay back, especially in the bottom. The weight is in front of the body, any movement into your toes will move the bar away from your center of mass and make it much harder to control (and much easier to drop)!
Advanced Athlete Extra Work
Metcon (5 Rounds for time)
5 x 400m run

2 minute rest
Gymnastics strength WOD
Metcon (No Measure)
Accumulate 2 min. in a handstand.

Scale to handstand against wall or front support with feet elevated.