CrossFit Rocks – CrossFit
Welcome back!
We hope everyone has had a fantastic break and has recharged their batteries ready for a big year ahead! Today's workout is a great one to start the year – make sure you bring your socks! Go hard, it is time to get some intensity!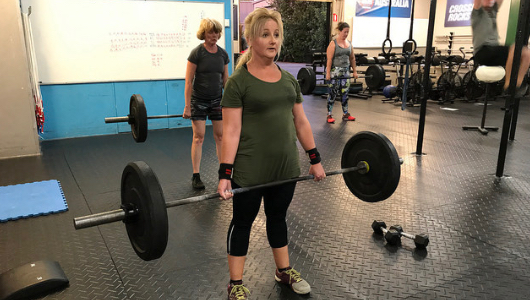 Welcome back!
Warm-up
Warm-up (No Measure)
3 rounds of:

12 burpees

10 goblet squats

10 hanging activations
Then:
2 rounds for quality:

5 strict knees to elbow (on the bar or on the ropes)

5 footbite lock offs (either hanging with straight arms or sitting on a box)
Warm up back squat with an empty bar

– 6 deadlift

– 6 hang power clean

– 6 push press over to back rack

– 6 back squats
Build in weight.
Metcon
Metcon (Time)
For time:

21 body-weight back squats*

7 rope climbs

15 body-weight back squats

5 rope climbs

9 body-weight back squats

3 rope climbs
*taken from the floor
BRING LONG SOCKS
Advanced Athlete Extra Work
Split Jerk (2-2-2-2-2-2-2)
Gymnastics strength WOD
Metcon (No Measure)
5 minute EMOM (all movements to be completed each minute):

2 push-ups

2 narrow push-ups

2 wide push-ups