CrossFit Rocks – CrossFit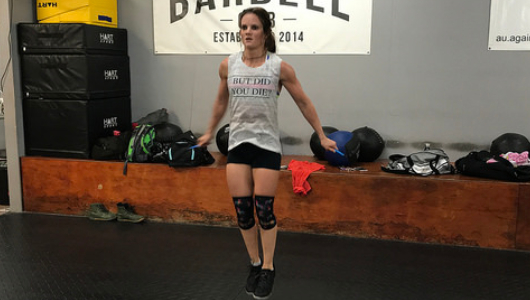 Awesome Singlet… And Double Unders by Alyce!
Warm-up
Warm-up (No Measure)
2 Rounds of:

300m Row

20m Inchworm Push-ups
Then,
Today's Gymnastic EMOM.
Then,
Deficit Deadlift Practice.
Weightlifting
Stand on extra plates to increase range of motion beyond that allowed by your normal deadlift set-up. This is flexibility dependant and will require a 100% perfect position or no deficit today. The alternative will be conventional Deadlifts from the floor.
Deadlift (3-3-3-3-3)
Deficit Deadlifts*
Advanced Athlete Extra Work
Metcon (Time)
5 Rounds for time:

9 Handstand Push-ups

12 Single-arm Dumbbell Overhead Squats 22.5kg/15kg
Gymnastics strength WOD
Metcon (No Measure)
EMOM 5 minutes:

7 Burpees + 5 Pull-ups (or banded Pull-ups).
You will notice a common theme with this week's gymnastics work! As the Open approaches, we are preparing to move with good form under fatigue. Sprint the Burpees, then focus on good mechanics for the second movement. If you have <10 sec rest at the end of the round, reduce the number of Burpees.