CrossFit Rocks – CrossFit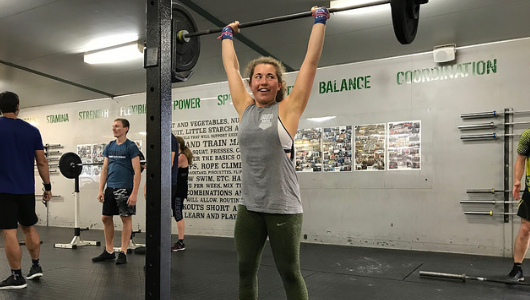 When complexes get complex and you have to ask someone what's next.
Warm-up
Graduated CrossFit Warm-up (No Measure)
(beginners do 3 rounds of the first)
Round 1

10 Pullups

10 Pushups

10 Situps

10 Squats

10 Hip extensions

Round 2

10 Kipping pullups

10 Ring dips

10 Toes to bar

10 OH Squats

10 Back extensions

Round 3

10 Butterfly pullups

10 HSPU

10 GHD Situps

10 Muscle sn + OH Squat

10 Hip & back extensions
Weightlifting
Deadlift (3-3-3-3-3)
Why don't we drop the bar from the top of the deadlift? The simple fact that, in life, what we pick up, we often need to put back down. Plus, a controlled lower to the floor adds in extra work. When we do extra work, we create an opportunity to get stronger. Here is another question; why do you think people want to drop the bar from the top? Because it's easier than lowering it, right? Well, easy is for the weak. Fuck easy 🙂
Advanced Athlete Extra Work
Metcon (Time)
5 rounds for time:

15 wall balls 9/6kg

12 burpee box jumps 24/20″

9 handstand push ups
The goal today is to establish a pace that allows you to do all the wall balls and the handstand push ups unbroken and not stop on the burpees. All that means is; do the first round at 85% not 100%. You still have to hustle. If you make the mistake of going too slow, pick up the pace and give it a good push for the last two rounds. Keep your internal dialogue confident and positive, focus on working through each rep one at a time, either count down or count up, just find a way to stay present.
Gymnastics strength WOD
Metcon (Time)
3 attempts at max length hold of each:

– hang from bar;

– chin over bar hold;

30 sec rest between attempts.