CrossFit Rocks – CrossFit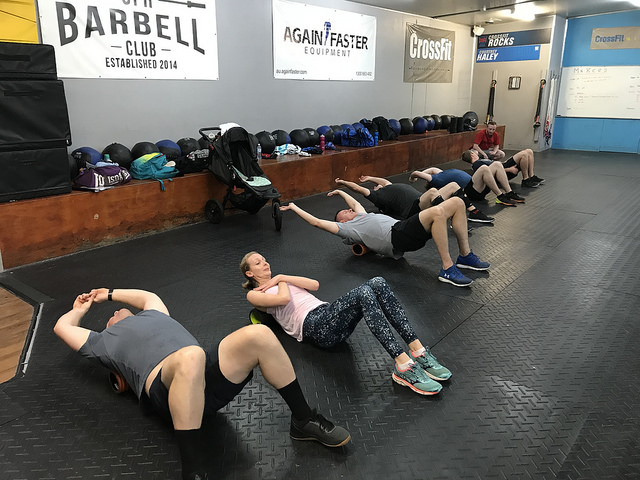 They see me rollin'.
Warm-up
Warm-up (No Measure)
Mobility:

2 minute thoracic foam roll with plate overhead

1 minute thoracic foam roll lats (each side)
Then,
3 rounds of:

100m Run

20s Broomstick assisted from rack stretch (each side)

10 Wall Squats

5 Hanging Activations + 5 Strict Pull-ups
Then,
Clean Drills.
Then,
Warm up to workout weight.
Metcon
Metcon (Time)
AGOQ Workout 2

4 rounds for time of:

25 chest-to-bar pull-ups

5 cleans
Men: 245 lb.

Women: 170 lb.
This is one of the Age Group Online Qualifier workouts (the next step before the CrossFit Games), so for most of us, this is going to be outside the realm of realistic. You have 100 Chest-to-bar Pull-ups in big chunks of 25 and a very heavy barbell. You need to be reasonable with your choice of scaling in today's workout. You have to earn the right to go heavy today – do you have the technique and experience yet? How is your Pull-up capacity – can you keep pushing the intensity without them falling apart?
Advanced Athlete Extra Work
Split Jerk (3-3-3-3-3)
*Use blocks. Practice consistency at a moderate load (70-75%).
Gymnastics strength WOD
()