CrossFit Rocks – CrossFit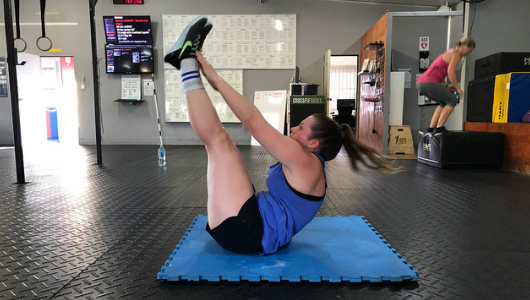 Get your abs ready for GHD sit ups by doing them before or after class!
Warm-up
Warm-up (No Measure)
Mobility

– thoracic bridges

– cat cow

– squat & reach

– 2 x 20 second bottom of ring dip

– 10m inchworm
Then;
3 rounds

10 box jumps (step down)

10 burpees

20m bottoms up KB OH carry (10 L/10 R)
Warm up kettlebell snatch
Metcon
Metcon (3 Rounds for reps)
On a 12-minute clock, 4 rounds of:

1 minute of kettlebell snatches 24/16kg

1 minute of sit-ups

1 minute of lunges
Score is reps completed for each exercise
Keep your hands loose on the kettlebell snatch. Let the bell rotate over to your forearm by punch under, not swinging over.
Advanced Athlete Extra Work
Snatch (12×1)
Every 90 seconds (start around 65% and build gradually).
Gymnastics strength WOD
Metcon (No Measure)
5 rounds:

20 second hollow hold

20 second front support

20 second hang from bar