CrossFit Rocks – CrossFit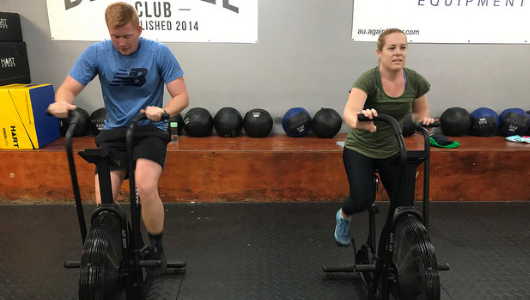 Graeme and Lauren working hard!
Warm-up
Warm-up (No Measure)
10 minute team assault bike (max cal, rotating every 10/8 cal)
Then;
25 hip extensions

15 back extensions

10 hip and back extensions
Then;
Pistol practice:

Warm up with;

Stretching calves

Roll to candlestick and roll to pistol (8-10 reps each)
Accumulate 20-30 reps at any of the following options;

1. On box with a broomstick

2. Sitting down to a low box

3. Freestanding (can use heel plate if needed)
Metcon
Metcon (Time)
For time:

100 wall-ball shots
Men: 12kg ball to 10-ft. target

Women: 9kg ball to 9-ft. target
How many can you do unbroken? If you have never done Karen before, today is the day to hit that benchmark workout. If you have done Karen before and you have not been cut off by the time cap, go for this heavy option. Athlete's choice.
Karen (Time)
For Time:
150 Wall-Ball Shots, 20# / 14#
Advanced Athlete Extra Work
Clean and Jerk (1 rep)
1 rep every minute on the minute for 12 minutes
Gymnastics strength WOD
Metcon (No Measure)
Tabata handstand hold