CrossFit Rocks – CrossFit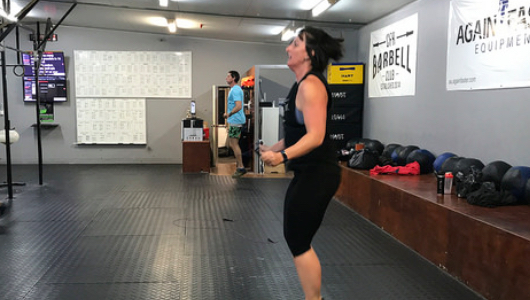 Synchronised double unders with Sam and Amy.
Warm-up
Warm-up (No Measure)
1 minute overhead with external rotation bias (each side)

1 minute pidgeon stretch each side.
Then,
Alternating Tabata (9 rounds):

– Air squat

– Lateral hurdles

– Hollow hold
Then,
Skill: Thruster efficiency
Then,
Set-up for workout.
Metcon
Metcon (Time)
4 rounds for time of:

15 GHD sit-ups

30 thrusters

45 double-unders
Men: 29-kg.

Women: 20-kg.
It's not often that GHD sit-ups come in less than 100 reps! This may be a chance to start incorporating full range reps into a workout if you have not already. For those who already use them in workouts, this is a chance for you to try and go unbroken.
Advanced Athlete Extra Work
Metcon (Weight)
Every minute on the minute for 10 minutes, complete:

1 squat clean

1 cluster
*cluster = squat clean + thruster.

**Increase weight each minute. Start Heavy!
Gymnastics strength WOD
()