CrossFit Rocks – CrossFit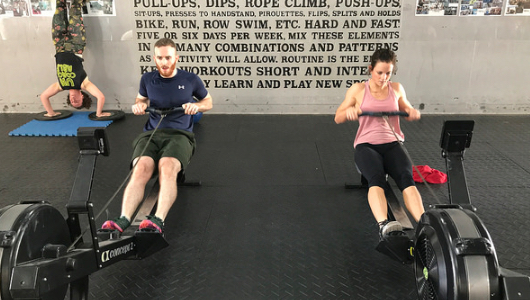 Benchmark day!! Look up your previous time and try to beat it!
Warm-up
Warm-up (No Measure)
Group dynamic stretch
Then;
2 rounds:

25 double unders

9 wall balls

7 low box jumps
Build up to box jump height for warm up
Metcon
Kelly (Time)
5 Rounds for time of:
400m Run
30 Box Jumps, 24" / 20"
30 Wall-Ball Shots, 20# / 14#
Kelly is intimidating. It can be easy to look at this workout and think about all the ways you need to break this workout up or pace or places that you need to conserve yourself. Change that thought process NOW. You already know, just by looking at this, that Kelly is going to be tough. But, pumping the brakes and playing it safe is NOT how you get better. The goal today is to be moving consistently and breathing heavy for 25-30 minutes. If you are planning on a 35-40min+ workout, the workout needs to be changed. Do 4 rounds, and do 4 rounds with intensity. Pushing the whole time, rather than dreading what's still to come and backing off. This workout, while heavy on volume, was NOT designed as 45-60 minutes of work.