CrossFit Rocks – CrossFit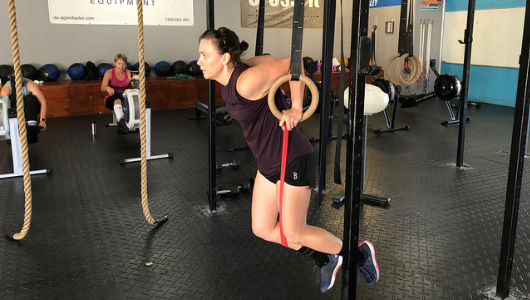 Susan punching out some ring dips!
Warm-up
Warm-up (No Measure)
400m run
Then;
2 rounds in partners:

10m wheelbarrow (each)

12 med ball tosses

16 plank high 5's
Then;
Warm up deadlift
Metcon
Metcon (Time)
4 rounds for time:

21 burpees

21 deadlifts

400m run
Men: 60kg

Women: 40kg
High volume deadlifts can pack a punch. A couple of tips: brace and breathe. If you expect to do big sets, you need to be able to keep your abs engaged and breathe throughout. When you start breathing heavy, double check to see if you are still keeping tension in your midsection. Stay back on your heels; this will help keep the weight close to you where you have the biggest mechanical advantage, and it will enable you to utilise the big powerful group of muscles on the back of your body. Aside from that, be sure to stretch and roll out afterwards!