CrossFit Rocks – CrossFit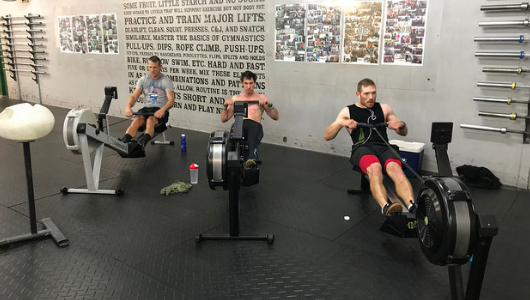 The other alternative is a 42km row.
Warm-up
Warm-up (No Measure)
Chris Hinshaw running warm up.
Then,
Set-up for workout.
Metcon
Metcon (Time)
With a partner, complete for time:

2,000-m row (500-m each)

1-mile run (200-m each)

4,000-m bike (1,000-m each)

1-mile run (400-m each)

2,000-m row (250-m each)
*share the total volume by switching at the set intervals in brackets.
Don't start too slow!

Most endurance workouts require you to pick a pace that you can successfully maintain throughout. However, this workout is completed in pairs and requires you to switch at set intervals, allowing for rest. This will significantly increase the pace of the workout and there will be less need to hold back.