CrossFit Rocks – CrossFit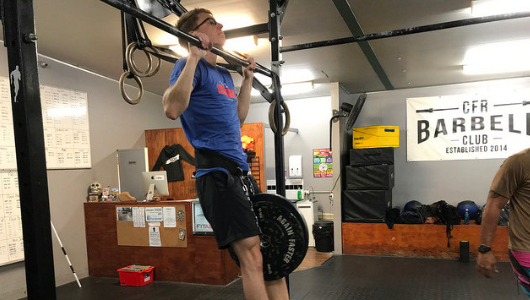 Pulling up into the weekend !!!!
Warm-up
Warm-up (No Measure)
Plank wars!!

on hands
2 rounds modified crossfit warm up

10 ring rows

10 push ups

10 sit ups

10 squats

200 m run
Metcon
Metcon (5 Rounds for reps)
5 3-minute rounds of:

20 push press

Max-rep weighted pull-ups

Rest 2 minutes between rounds. Each round, decrease weight on the pull-up.

Men:61kg. press;

22.5 -20-15-10-5-kg. weighted pull-ups

Women:43kg. press; 12.5-8-6-4-3-kg. weighted pull-ups
Squeeze your butt!!. Your legs should be doing most of the work in a push press. Drive hard with the legs and squeeze your butt. This will save your shoulders for the pull ups.