CrossFit Rocks – CrossFit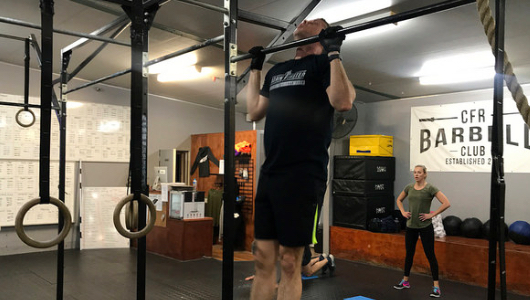 Rick making pull-ups look easy!
Warm-up
Warm-up (No Measure)
Agility ladders.
Then,
3 rounds of:

10 reps running wall drill (2 with pause / 8 rapid fire)

10 banded pull-aparts

10 groiners
Then,
Skill: Kipping pull-ups.

*Coaches choice
Then,
Set-up for workout.
Metcon
Bradley (Time)
10 Rounds for time of:

100m Sprint

10 Pull-ups

100m Sprint

10 Burpees

Rest 30 seconds
In honor of U.S. Air Force Senior Airman Bradley R. Smith, 24, of Troy, Illinois, was killed on January 3, 2010
To learn more about Bradley click here
How do you use your 30 seconds rest? It's not long enough to make a recovery but it can still be useful if you approach it properly. To feel prepared for the next round, watch the clock, control your breathing, calm yourself down and don't think of it as an actual 'rest' or you'll be disappointed and caught off guard.
Advanced Athlete Extra Work
Rest day or catch up.
Gymnastics strength WOD
Metcon (No Measure)
5 rounds for quality:

10 kip swings on bar

5-10 push-ups