CrossFit Rocks – CrossFit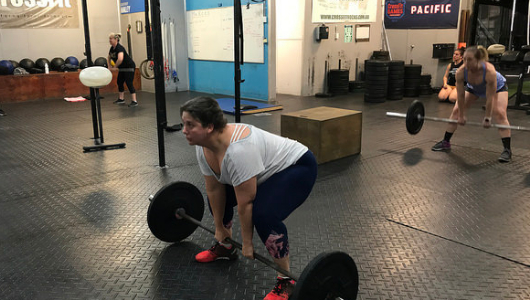 Chrissie and Jess getting their Sumo on.
Warm-up
Warm-up (No Measure)
1000m row
Then,
3 rounds of

15 KB SDHP

12 v-ups

10 broad jumps
Then,
Sumo deadlift practice with a barbell
Then,
10 minutes to warm up to working weight
Weightlifting
Sumo Deadlift (3-3-3-3-3 reps)
Wedge the bar into your body and your body into the bar, then brace to lift the bar off the floor. You need to rely on staying tight and having no slack in the bar before you pull. You will not tire yourself out from spending 5-10 seconds bracing and finding a strong position before pulling.
Advanced Athlete Extra Work
Rest day or catch up.
Gymnastics strength WOD
Metcon (No Measure)
Straddle leg lift challenge:

Use a kettlebell as a "hurdle" for your foot. Start on one side of the kettlebell, raise your leg and with control go over the kettlebell and touch the ground on the other side of the bell.

3 sets of 5-10 reps on each leg (choose the reps based on your ability)

If using the hurdle is too difficult do 3×10 regular straddle leg lifts.