CrossFit Rocks – CrossFit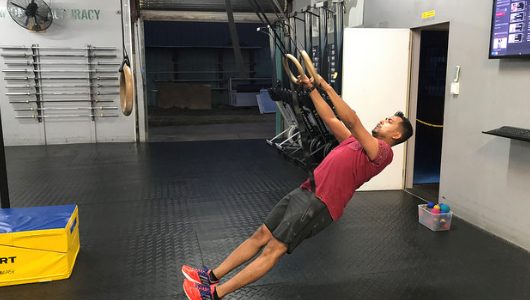 Shekhar repping it out.
Warm-up
Warm-up (No Measure)
2 rounds of:

10 burpees to a target

15 kip swings

10 overhead lunges (barbell)
Then,
Barbell complex (increase weight), 3 rounds of:

5 overhead press

5 jerk dips

5 push press
Then,
Split jerk drills
Then,
Lift.
Weightlifting
Split Jerk (1-1-1-1-1-1-1 reps)
Think legs not arms. You can be very strong overhead and still suck at split jerk because it's actually our legs drive that drive the movement. The bar needs connection with the torso the whole time during take off – let the legs do their job. If you press too early, you have just dropped down a gear while trying to gain speed.. It doesn't work.
Advanced Athlete Extra Work
Rest day or catch up.
Gymnastics strength WOD
Metcon (No Measure)
5 sets: 10 ring swings

Advanced option: sets of 9 swings + 1 muscle-up