CrossFit Rocks – CrossFit
Doug will be running the 5pm class today!!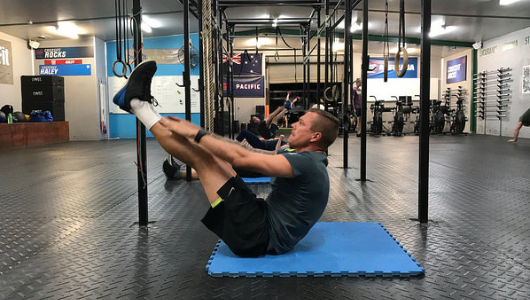 Nick during Tuesday's v-ups!
Warm-up
Warm-up (No Measure)
300m run (easy/mod/hard)

Then;

3 rounds

10 DB single leg RDL (ea side)

35 double unders

Then;

15 hip extensions

10 back extensions

5 hip & back extensions

Then;

Warm up on bar
Weightlifting
Deadlift (3-3-3-3-3)
Deadstop deadlifts. Each deadlift must come to a complete rest on the ground before being lifted again. If we always touch and go our heavy lifts we will create a weakness. Picking up a dead weight is much harder than bouncing it off the ground, therefore it offers many benefits for us and we shouldn't avoid it. Hard is good.
Advanced Athlete Extra Work
Rest day or catch up day.
Gymnastics strength WOD
Metcon (3 Rounds for reps)
3 attempts:

Max set chest-to-rings pull ups (false grip if possible).

Scale to regular ring pull ups or ring rows.