CrossFit Rocks – CrossFit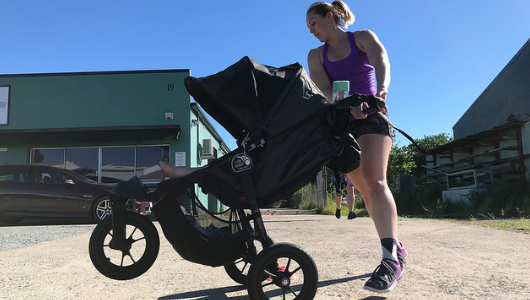 Jess hitting the 400's with Archer!
Warm-up
Warm-up (No Measure)
3 rounds:

10 double unders

10 burpees

10 wall balls
Then;
In pairs with a barbell;

Superfriend front rack stretch. Add a little weight on the bar if needed. Keep a slightly tighter grip to increase stretch while partner helps raise elbows. 1-2 minutes each twice.
Warm up front squat.
Weightlifting
Front Squat (3-3-3-3-3)
Metcon
Annie (Time)
50-40-30-20-10
Double-unders
Sit-ups
Get moving!! The cap is not designed to cut people off, it is there to help you understand the time frame for getting this done. Attack Annie hard. Do everything in your power to not be cut off.
Advanced Athlete Extra Work
Rest day or catch up day
Gymnastics strength WOD
Metcon (No Measure)
4 rounds:

10 strict toes to bar

10 push-ups on low rings

Scale to knee raises and regular/box push-ups as required.