CrossFit Rocks – CrossFit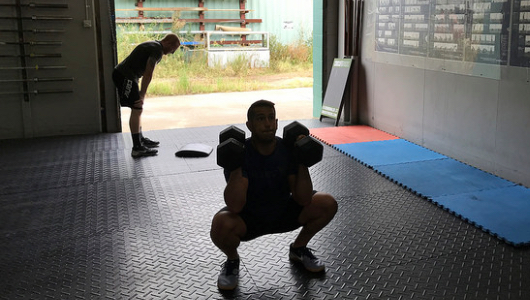 International resting position and the bottom of a dumbbell thruster
Warm-up
Warm-up (No Measure)
Rowing pick drill (reversed)

100m at each step (please do a clear demo first):

1. Arms only

2. Arms and hips

3. Arms and hips and half legs (half stroke) with a pause after arms have re-extended

4. Full stroke with a pause after arms have re-extended
Stretching (while rotating through athletes on the ergs)
Then;
3 rounds

10 scap push ups

8 knees to elbow

6 barbell front squats
Warm up for rope climbs and handstand push ups.
Metcon
Metcon (Time)
3 rounds for time of:

21-cal. row

12 handstand push-ups

3 rope climbs, 15-ft. Rope
Use the clock!
It's hard to know where you can make up time if you're not watching the time.
Two places that you can utilise the clock as a tool; 1. When you rest. Check when you stop and then check when you start. Becoming aware of how long you are resting is a massive advantage as it is something that is completely within your control.
2. When you finish each round. Getting an idea of how long each round is taking is going to tell you how consistent you are and give you an indication of how long it should take you to do a workout.
Advanced Athlete Extra Work
Rest day or catch up day
Gymnastics strength WOD
Metcon (No Measure)
5 min EMOM:

20 shoulder taps (front support with feet elevated on a box),

10 hollow rocks.

Complete both movements each minute.