CrossFit Rocks – CrossFit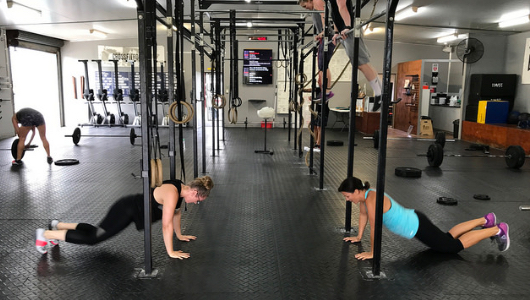 Cecile and Jenny doing their burpee knee raises!
Warm-up
Warm-up (No Measure)
2 minutes roll out lats (2 min each side)

2 minutes smash hamstrings with ball under thigh while sitting on box (2 min each side)
Then;
3 rounds

20-30 double unders

10 cossack squats
Then;
Pistol work

3 sets of 10 alternating pistols (options below)

1. Off the high box (use a broomstick as needed)

2. To a box or band (use a height that allows you to move well)

3. Freestanding

4. With a kettlebell
Then;
2 mini-rounds

5 wall balls

5 DB snatch

5 double unders
Metcon
Metcon (3 Rounds for reps)
3 rounds of

1 minute row

1 minute wall balls

1 minute DB snatch (alt)

1 minute double unders

1 minute rest
Men: 20lb wall ball, 20kg DB
Women: 14lb wall ball, 15kg DB
Score is total reps from each round.
Go all out in the first round and try and match your numbers or beat them in the following two rounds. Don't hold back, the rest is built in. Use every second of each minute and transition quickly! If you are looking for ways to time waste, you are avoiding intensity and you will be missing out on getting better results. Things like using your towel, chalking up, stopping for water. Stop doing these little things and start doing your best to get back into the work!
Advanced Athlete Extra Work
Rest day or catch up day.
Gymnastics strength WOD
Metcon (No Measure)
Accumulate 1 min. ring support and 1 min. false grip hang.