CrossFit Rocks – CrossFit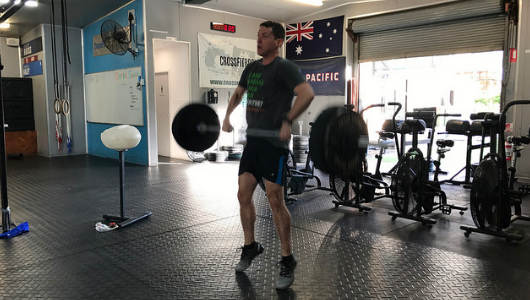 Rick performing a clean.
Warm-up
Warm-up (No Measure)
Dynamic drills.
Then,
Shankle Complex progressions.
Then,
Lift.
Weightlifting
Shankle Complex (1-1-1-1-1-1-1 reps)
3 hang clean pulls

1 hang clean

2 split jerks
3 hang clean pulls + 1 hang clean + 2 split jerks = 1 rep and 1 set.
Complexes are great for building strength because it keeps the bar in the hands for an extended period of time. This complex in particular is great for anybody who struggles with fatigue in their jerk after standing up a heavy clean.
Donny Shankle performing the Shankle Complex with 200kg.

https://www.youtube.com/watch?v=HNI_M2zEAXc
Advanced Athlete Extra Work
Rest day or catch up.
Gymnastics strength WOD
Metcon (No Measure)
5 rounds:

30 sec shoulder taps

30 sec rest

Choose front support with/without feet elevated on box, or handstand against a wall