CrossFit Rocks – CrossFit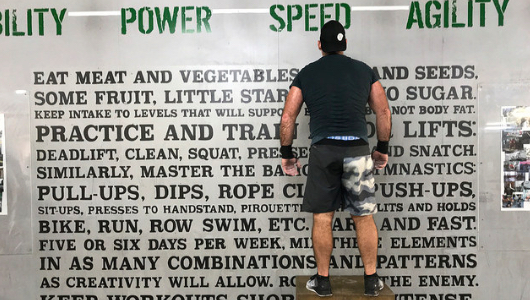 Power. Speed. Agility. You will need all 3 today.
Warm-up
Warm-up (No Measure)
Mobility

1 minute Calf stretch (use 5kg plate) each side.

1 minute trigger ball foot (each side).
Then,
Agility Ladders
Then,
Skipping mechanics review / practice.
Metcon
Metcon (Time)
(In pairs, going 1 for 1)

21-18-15-12-9-6-3 reps for time of:

Triple-unders

Bike (calories)
Practicing skills such as Double Unders and Triple Unders outside of a workout is a great way to learn and progress. But remember – being able to perform a skill under fatigue is an entirely different thing if you are not use to it. Today's workout involves exactly that and will truly put your skipping to the test. Are you ready to put your skills to the test in the middle of a workout? Ask a trainer for guidance if you are unsure.
Advanced Athlete Extra Work
Rest day or catch up.
Gymnastics strength WOD
Metcon (No Measure)
Alternate tabata:

Hollow hold

Superman hold

Then,

30 shoulder taps in front support