CrossFit Rocks – CrossFit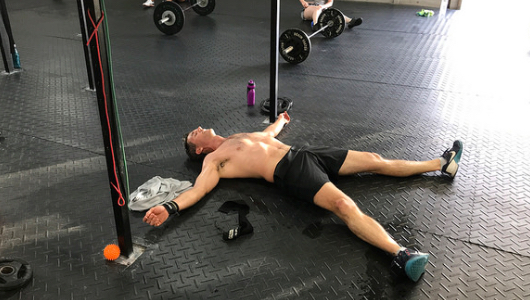 Damian making sweat angels.
Warm-up
Warm-up (No Measure)
Mobility

1 minute Foam roll triceps (each side)

1 minute trigger ball pecs (each side)
Then,
2 rounds of:

10 Good Mornings

10 Scorpions

5 Divebomber push-ups. *Pause in both the downward dog and Cobra position for a couple of seconds.
Then,
2 rounds of:

1) 15/10 calorie row

2) Max Burpees

* 1 person performs max burpees until the other person completes their calories.
Then,
Set-up for workout.
Metcon
Metcon (AMRAP – Rounds and Reps)
In partners, complete as many rounds as possible in 25 minutes of:

50 push-ups

50 sit-ups

50-cal. Row
One person working at a time, split up reps as desired.
Do we row differently when it comes to calories verses metres? The answer is no. Our mechanics do not change in anyway! Your mechanics play a big role in how much force you can apply to the machine. It is important that you are efficient with each stroke and give each stroke a purpose.
Advanced Athlete Extra Work
Yesterday's WOD.
Gymnastics strength WOD
Metcon (No Measure)
Accumulate 2 mins in ring support hold.