CrossFit Rocks – CrossFit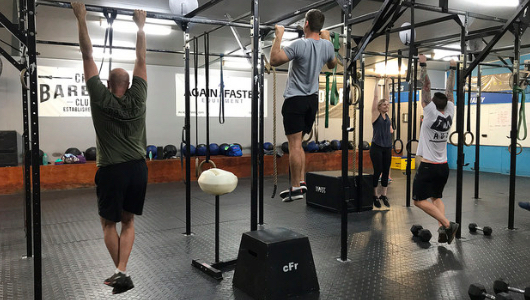 Strict pull-ups are the foundation which kipping pull-ups are built on.
Warm-up
Warm-up (No Measure)
In teams of 2/3, alternate on the assault bike for 7 minutes.
Then,
Skill: handstand push-up progressions
Then,
Beginner-intermediate:

EMOM 6 minutes of:

Min 1: 30s Handstand Hold

Min 2: 8 Seated dumbbell press
Advanced:

EMOM 6 minutes of:

Min 1: 30s freestanding handstand hold

Min 2: 8 deficit handstand push-ups
Then,
Lift.
Weightlifting
Weighted Pull-ups (3-3-3-3-3-3-3 reps)
The infamous pull-up. Some of us want just 1, while others are adding on weight. The journey for improving your pull-up does not end. Once you get 1, you aim for 2, 3, etc. Then you start pulling higher and then you start adding on weight. No matter where you are in your pull-up journey we have something for everyone today to improve their pulling strength. Make the most of it.
Metcon
Metcon (AMRAP – Reps)
3 rounds of:

30s max rope slams

30s max 5-10-15m shuttle sprints

30s max groiners

30s rest
Advanced Athlete Extra Work
Rest day or catch up.
Gymnastics strength WOD
Metcon (No Measure)
5 min EMOM:

10 hollow rocks + 10 superman pulses