CrossFit Rocks – CrossFit
The Lift Off is Friday and Monday as part of the class WOD!
Testing 1RM snatch and 1RM clean & jerk on Friday then the WOD on Monday!
Sign up at games.crossfit.com – it is only $13 ($10 USD)!! Get on it!!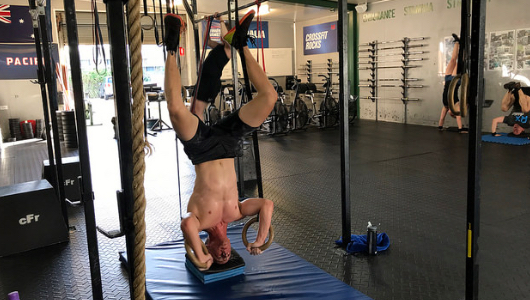 Ruzzie getting upside down on the rings!
Warm-up
Warm-up (No Measure)
2 rounds in partners:

500m row (250m each)

20 alternating wall balls (coordinate swapping on each rep)

20m wheelbarrow walk (10m each)
Then;
2 rounds:

3 kettlebell windmills (each side)

5 high box jumps (step down)

*aim for 30" or more

7 super slow goblet squats
Then;
Review kettlebell swing.
Metcon
Metcon (Time)
50-40-30-20-10 reps for time of:

Kettlebell swings 24kg/16kg

Abmat sit-ups
Advanced Athlete Extra Work
Rest day or catch up day
Gymnastics strength WOD
Metcon (No Measure)
Accumulate 2 mins holding the top of a pull-up. Every time you come off the bar, rest for exactly 20 seconds.