CrossFit Rocks – CrossFit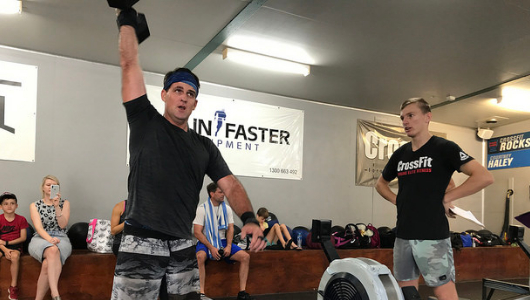 Simon during the CrossFit Open.
Warm-up
Warm-up (No Measure)
In teams of 3, switch every 10/7 cal assault bike for 7 minutes.
Then,
3 rounds of:

100-m single medicine ball carry (2 hands / LA / RA)

10 hanging activations + 10 kip swings

10s hollow hold
Then,
GHD Practice (If not performing them in the workout)

– Accumulate 30 – 50 reps.

*5 minute cap.
OR
Gymnastics WOD
Then,
Set-up for workout.
Metcon
Metcon (AMRAP – Rounds and Reps)
Complete as many rounds as possible in 15 minutes of:

21 GHD sit-ups

14 single-arm dumbbell push jerks

Use a single, heavy dumbbell and alternate arms each rep.
You may have to rely on the use of one arm to get the dumbbell overhead, but you can utilise both arms to control the dumbbell to the opposite shoulder and to position the front rack.
Advanced Athlete Extra Work
Metcon (Calories)
30 seconds on, 30 seconds off, for 30 rounds of:

Assault bike calories.
Gymnastics strength WOD
Metcon (No Measure)
5 sets

1 minute 1 arm front support R

1 minute 1 arm front support L

Rest as needed