CrossFit Rocks – CrossFit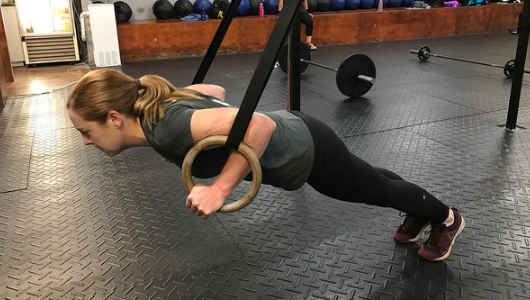 Lauren punching out some ring push ups!
Warm-up
Warm-up (No Measure)
"Lumberjacks and Farmers"

Then;

3 rounds

12 scap push ups

15 hollow rocks

10 banded press

Then;

Handstand walking progressions
Metcon
100m Handstand Walk (Time)
Handstand walk 100 meters.

If you fall, restart at the point of contact furthest from the finish.
Today is a gymnastics day and a lot of value will come from practicing a skill you are not yet proficient with. Skills are something you have to work on a lot to improve, do not consider anyone a 'natural' or excuse yourself from this kind of session because you were not born with a unique gift for walking on your hands – every single person that can handstand walk had to practice to learn how to do it and then practice some more to get good at it. Being good at something requires effort. For everyone. Period.
Metcon
Alternative workout if you cannot handstand walk
Metcon (AMRAP – Rounds and Reps)
10 minute AMRAP

30m bear crawl

15 v-ups

100m run
Gymnastics strength WOD
Today's gymnastics will be done in class
Metcon (No Measure)
2-3 rounds of:
20-30 seconds of;
1. Ring support (turned out – scale to incline ring support with feet on ground). Advanced athletes can also add a bottom of the dip hold.
2. L-sit (parallettes or hanging)
3. Superman hold in GHD – can add weight (or on floor)
4. 10-20 perfect pistols (should be slow and controlled – can be done with support or on box)
Advanced Athlete Extra Work
Snatch Balance (3-3-3)
Build up in weight but only with perfect mechanics. This is essentially a warm up for the snatch. Practicing SPEED under.
Snatch (1-1-1-1-1-1-1)