CrossFit Rocks – CrossFit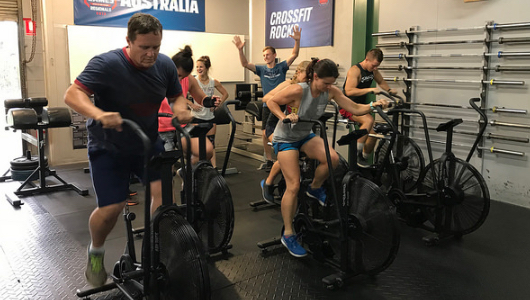 You know how everyone always sprints the assault bike when it is a warm up? If we told you to go at warm up pace for the workout, would you sprint that too? #reversepsychology #winningthewarmup
Warm-up
Warm-up (No Measure)
Mobility;

1. 2 min ea side hamstring with band attached to post

2. 2 min ea side couch stretch with hands on floor (this will prevent cheating stretch by hyperextending spine, try to tuck pelvis and push hips towards floor)
Then;
3 rounds of:

100m run

10 under over (with partner holding broomstick, crawl under then jump over)

10 partner wall balls
Then;
Warm up with practicing DB snatch standards (swapping hands below eye level) and burpee standards (jumping both feet in).
Metcon
Metcon (Time)
18.Zero

21-15-9 reps for time of:

Dumbbell snatches

Burpees, jumping over the dumbbell
Men: 22.5kg dumbbell

Women: 15kg dumbbell
Can you do this in sub 5 minutes? Top games athletes were completing this in 3-3:30!
Metcon (Time)
Finisher:

50 GHD sit ups for time (scale to 30 reps)
Advanced Athlete Extra Work
Metcon (Time)
3 rounds for time:

100 double unders

400m run
Gymnastics strength WOD
Metcon (No Measure)
Accumulate 1 min holding the bottom of a ring dip – break into as many sets as necessary.

If you find this position too challenging, hold between boxes or jerk blocks and take some of your weight through your legs.