CrossFit Rocks – CrossFit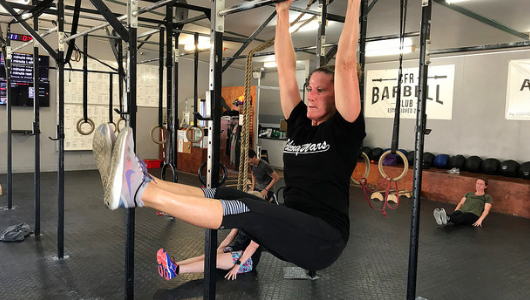 Georgie with the L-sit goods.
Warm-up
Warm-up (No Measure)
Overhead/Squat mobility

2 minute foam roll thoracic

1 minute bar hang

1 minute Squat hold
Then,
3 rounds of:

10/7 cal Assault bike

10 Deadbugs

10 Kips Swings

20s Handstand Hold
Then,
Complex with broomstick

2 rounds of:

5 Back Squats

5 Sotts Presses

5 Overhead Squats
Then,
Set-up for workout.
Metcon
Metcon (Time)
21-15-9 reps for time of:

Overhead squats

Toes-to-bars
Men: 115 lb.

Women: 80 lb.
How well does your Core hold up when managing fatigue with a high intensity wod; can you still brace properly and maintain an upright squat while breathing heavily? Your core strength plays a big role in both of these movements today as well as everything else. The better your core strength is, the more robust your mechanics will be at the back end of a workout when fatigue has the biggest effect on your movement. Stay braced, control your breathing and keep the intensity. All of that is a skill in itself that needs to be practiced.
Masters WOD
Metcon (Time)
21-15-9 reps for time of:

Overhead squats

Toes-to-bars
Men: 95 lb.

Women: 65 lb.
Advanced Athlete Extra Work
Metcon (Weight)
Every 90 seconds for 8 rounds of:

1 Squat Clean Thruster

2 Push Presses

3 Push Jerks
*perform this as a complex (unbroken).
Gymnastics strength WOD
Metcon (No Measure)
15 reps:

HSPU negative.

Lower from handstand slowly – should take ~5 seconds. Once your head hits the floor, come off the wall.

Scale down to push-up, or up to deficit HPSU.