CrossFit Rocks – CrossFit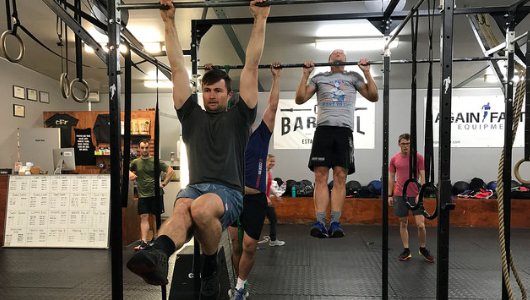 Morning squad!
Warm-up
Warm-up (No Measure)
"The floor is lava"

2 rounds:

10 leg swings

– forward and backward

– side to side

10 Under Over (partner holds PVC, athlete duck walks under, then climbs over – adjust height of PVC to make it challenging)

Then;

20m monster walk

Then;

Warm up on bar
Weightlifting
Front Squat (5-5-5-5-5)
Advanced Athlete Extra Work
Metcon (AMRAP – Reps)
20 minute EMOM

1. Max distance DB OH walking lunge 20kg/15kg

2. Max cal bike

3. Max toes to bar

4. Rest

*aim to hold the same numbers from the first round of this EMOM (score is total reps – each leg counts as one rep on the lunge)
Gymnastics strength WOD
Metcon (No Measure)
6 reps each:

Handstand hold with a partner

If you are not confident being spotted, hold against a wall.