CrossFit Rocks – CrossFit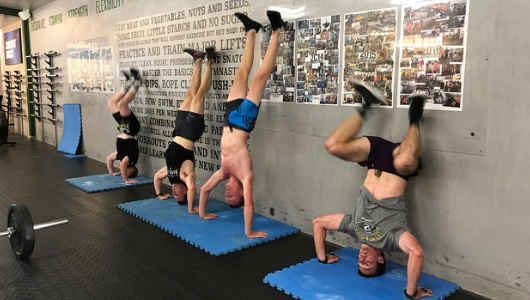 Build a strong foundation by spending more time with the basics for your gymnastics movements!
Warm-up
Warm-up (No Measure)
5 minutes max calories assault bike (in groups)
Then;
2 rounds of:

10 inchworm push ups

20 second handstand hold

15 GHD sit ups
Warm up deadlift

3 sets of:

– 10 KB SDHP

– 10 banded good mornings
Then start loading up bars!
Metcon
Metcon (Time)
3 rounds for time of:

30/25 cal assault bike

15 deadlifts 125/90kg

15 strict handstand push-ups
Masters weight 100/70kg
Time to deadlift. It's a heavy bar and no roundy-backs are tolerated! You must lift strong. Practice integrity. Check your ego. Coaches will be checking your spine throughout the warm-up and the workout and if you are unable to keep it neutral, we will reduce the weight so you can practice good position!
Advanced Athlete Extra Work
Metcon (3 Rounds for time)
3 x 800m run

Rest as needed
Gymnastics strength WOD
Metcon (2 Rounds for time)
Establish:

Max time in L-sit (or tuck) hang, and

Max time at the top of a pull-up.