CrossFit Rocks – CrossFit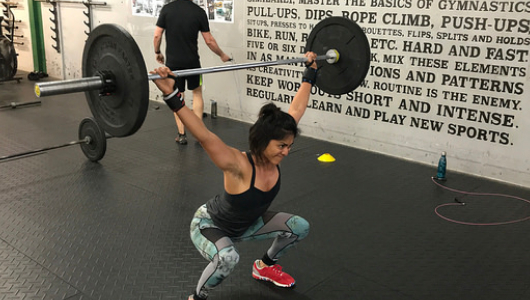 Virginia during the doubles and oly workout.
Warm-up
Warm-up (No Measure)
Thoracic flow
Then,
Squat therapy

5 reps x 5 sets. *3 second descent on every rep. Increase difficulty as needed.
Then,
3 rounds with an empty barbell:

5 push jerks

5 split jerks

5 overhead squats
Then,
Lift.
Weightlifting
Overhead Squat (3-3-3-3-3 reps)
Sort your jerk out. If you are catching off balance, wobbling everywhere and rushing the movement, you are burning yourself out having to correct position and save the lift before you have even performed any overhead squats. The more consistent and precise your push/split jerk is, the less energy you expend on it and the more you can put into your overhead squats.
Advanced Athlete Extra Work
Metcon (Time)
5 rounds for time of:

50 single unders

30 double unders

10 triple unders

5 inverted burpees
Gymnastics strength WOD
Metcon (No Measure)
5 rounds for max reps:

30 seconds shoulder taps in front support

30 seconds rest