CrossFit Rocks – CrossFit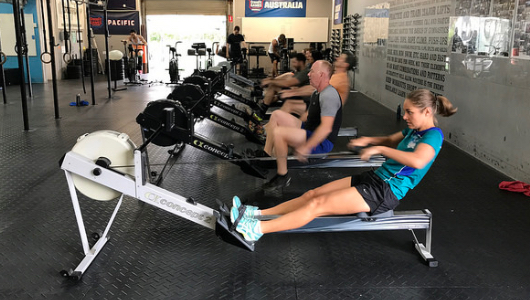 Laura during one of the many rowing WODs last week
Warm-up
Warm-up (No Measure)
3 rounds in partners;

A. 100m run

B. 12 push ups
Then;
Accumulate 35-60 GHD sit ups (alternate with your partner – while waiting, get today's gymnastics WOD done!)
Then;
3 rounds of:

3 muscle up kneeling transitions

6 barbell overhead lunges

9 snatch balance
Metcon
Metcon (Time)
For time:

30 overhead squats 50/35kg

15 muscle-ups

20 overhead squats 50/35kg

10 muscle-ups
Masters WOD
Metcon (Time)
For time:

30 overhead squats 35/25kg

30 chest to bar pull ups

20 overhead squats 35/25kg

20 chest to bar pull ups
Advanced Athlete Extra Work
Everyone is encouraged to run a mile today (with or without weight) after the WOD in preparation for Murph!
Metcon (Time)
1 mile run w/ vest or med ball
Gymnastics strength WOD
Metcon (No Measure)
Accumulate 2 minutes in support on rings. Ideal position is rings slightly turned outwards.

Scale to support on plates.

Scale to front support hold on ground (push-up position).