CrossFit Rocks – CrossFit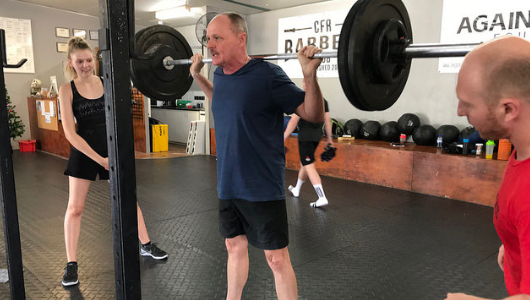 Barry squatting the house down!
Warm-up
Warm-up (No Measure)
2 rounds

250m row

15 band pull aparts

15 squats
Then;
Behind the neck push jerk + overhead squat warm up with a broomstick.
15 minutes to build to a heavy single overhead squat taken from the floor with a clean and jerk.
Overhead Squat (Heavy single taken from the floor)
Metcon
Metcon (Time)
4 rounds for time of:

Row 500 meters

10 overhead squats 70/50kg
Masters WOD
Metcon (Time)
4 rounds for time of:

Row 500 meters

10 overhead squats 50/35kg
Advanced Athlete Extra Work
Metcon (Time)
21-15-9 for time:

Chest to bar

GHD sit up

Box jump
Gymnastics strength WOD
Metcon (Time)
For quality:

50 flutter kicks in hollow

50 superman rocks

20 v-ups

50 superman rocks

50 flutter kicks

Scale flutter kicks to tuck hollow hold (30 sec) and v-ups to tuck-to-hollow