CrossFit Rocks – CrossFit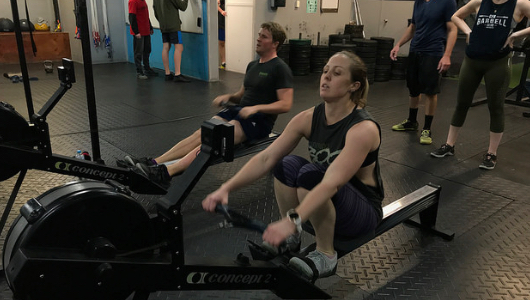 Tuxy and Jess battling it out on the rower.
Warm-up
Warm-up (No Measure)
Challenge: Hokey Pokey!
Then,
3 rounds of:

Jumping course (hurdles and boxes)

5 around the world lunges

5, 10, 15 (m) shuttle sprints
Then,
Set-up for workout.
*Run a longer cool down after the workout.
Metcon
Metcon (AMRAP – Rounds and Reps)
Complete as many rounds as possible in 7 minutes of:

200-m row

50 double-unders
Should you be using a speed rope? Speed ropes are not recommended for beginners because you cannot feel the turn of the rope. Weight is a favourable factor when learning because it provides greater muscular feedback. Until you can perform 30+ unbroken double unders, only then should you consider upgrading to a speed rope.
Advanced Athlete Extra Work
Snatch (2-2-2-2-2 reps)
Gymnastics strength WOD
Metcon (No Measure)
3 rounds for quality:

30 seconds tucked hollow hold

30 seconds superman hold

Rest as required between movements.