CrossFit Rocks – CrossFit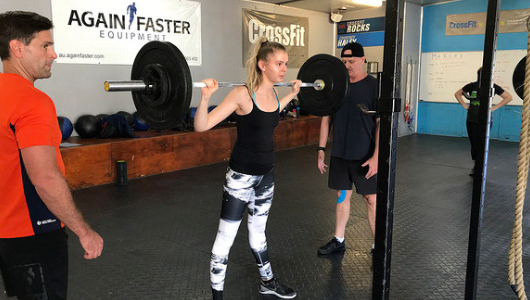 Amy bracing for her squats.
Warm-up
Warm-up (No Measure)
Bring sally up, bring sally down.
Then,
2 rounds of:

10 hip extensions

10-m monster walk

10 hip circles each side (hands on ground, lunge position)
Then,
Lift.
Back Squat (7-7-7-7-7 reps)
Anything over 5 reps becomes a real battle. The first 1-3 reps are going to be your most confident and probably fastest. Reps 4-5 are going to be the first signs of fatigue and struggle. Then, the last 2 reps should feel like an eternity. A real 7 rep max is not knowing if you'll make the last 2 reps.
Advanced Athlete Extra Work
Metcon (Time)
Using 2 kettlebells, complete 2 rounds for time of:

100-m farmers carry

7 ring muscle-ups

100-m overhead carry

7 ring muscle-ups
Men: 32-kg. kettlebells

Women: 24-kg. kettlebells
Gymnastics strength WOD
Metcon (No Measure)
5 x max set ring pull-up

30 sec rest between sets

Rest as needed then,

Max. false grip hang on rings