CrossFit Rocks – CrossFit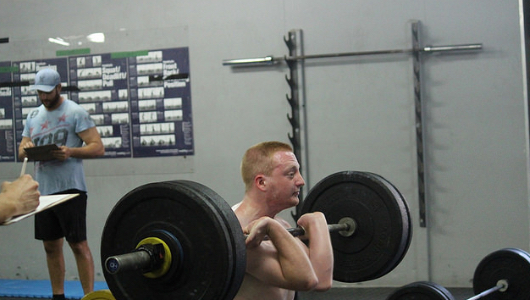 17 year old Blake. Ha!
Warm-up
Warm-up (No Measure)
1 minute trigger ball glutes each side

1 minute lizard pose stretch each side
Then,

2 rounds of:

250m row

10 wall ball

10 groiners
Then,
Pistol squat practice

Accumulate 30 reps total of any progression:

– Broomstick assisted on box

– Depth target

– Heel plate

– Pistol squat

– Weighted pistol
Then,
Review medicine ball clean.
Metcon
Metcon (Time)
3 rounds for time of:

1 mile assault bike

50 medicine-ball cleans

Rest 2 minutes
Men: 20-lb. Ball

Women: 14-lb. ball
Take medicine ball cleans seriously. If you struggle with olympic lifts or you know for a fact that it could be much better, than being able to master a medicine ball clean is a good start. It is the exact same pattern as a barbell clean. Be patient, focus on keeping your arms straight as you stand all the way up and open up your hips aggressively. Your hands will slide around the ball easily if you create enough elevation on the ball by opening up the hips and locking out the knees together, hard.
Advanced Athlete Extra Work
Metcon (AMRAP – Reps)
Complete as many rounds as possible in 7 minutes of:

3 muscle-ups

3 snatches

6 muscle-ups

6 snatches

9 muscle-ups

9 snatches
Men: 60-kg

Women: 40-kg
This is a timed workout. If you complete the round of 9, go on to 12. If you complete 12, go on to 15, etc.
Gymnastics strength WOD
Metcon (No Measure)
Wheelbarrow walk 3 x 10m (each, with a partner)