CrossFit Rocks – CrossFit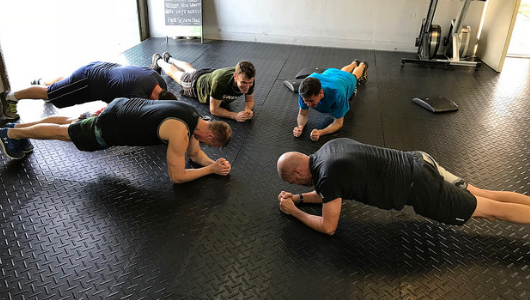 Friends don't let friends plank alone
Warm-up
Warm-up (No Measure)
400m run (increase speed on each lap)
Then;
Group dynamic stretches
Then;
2 rounds

10 empty barbell deadlifts

10 kip swings
Warm up to workout weight
Metcon
Metcon (Time)
5 rounds for time of:

200-meter run

15 toes-to-bars

15 deadlifts
Men: 100kg

Women: 70kg
Masters

Men: 70kg

Women: 50kg
Big sets! Find a way to tackle the toes to bar and deadlifts that means the last round is not completed in 2's or singles. Split it into 2 sets from the beginning if needed! If you usually default to small sets or singles, pick a number of reps that allows you to be more consistent. A good option might be 10 reps per round! You don't get fit looking at the pull up bar!
Advanced Athlete Extra Work
Snatch (15 min EMOM)
1 full squat snatch every minute, on the minute. Increase weight slowly from about 65%.
Gymnastics strength WOD
Metcon (No Measure)
Accumulate 2 min. at the top of a pull-up / ring row.